Hello. Welcome to my portfolio site. My name is Kaitlin Lusty. Currently, I am a graphic designer for the Pittsburgh Pirates.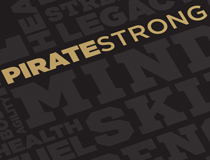 Brochure for the Pittsburgh Pirates Athletic Performance Team to distribute to upcoming baseball players.
This was a fundraiser benefitting Live Like Lou, a charity to fight ALS. I was responsible for creating the branding, including the logo and invitations.